Nothing Ventured - Nothing Gained. Nove-Noga!
| | |
| --- | --- |
| | About Nove-Noga: Welcome to Nove-Noga. This site is all about Possibilities. Whether you are looking for information and resources to create an Internet Income or seeking other ways to bring about change in your life, I Believe that Nove-Noga may have information of value to you. Nove-Noga is short for Nothing Ventured - Nothing Gained and it encompasses the philosophy that, in order to achieve anything we must first DO. This website is for those ready to DO, ready to Venture forth and Succeed. Say it Loud. Say it Proud. |
| | |
| --- | --- |
| | Seize Your Future Today: Many people are looking for alternative to the ways things have been done in the past. My search for Alternative Work Opportunities led to the creation of this site. Along the way I have found resources for many other Alternatives to traditional methods. Alternate Ways and Means will lead you to Solar Power and Gasoline to Electric Car conversions. The How To section offers ways to turn hobbies into careers. "My! My!" is where I have placed some of the wilder offerings. |
Recommended Site
Gaining traffic to your website is a common problem.
Traffic Exchanges can be part of your solution.
I have had good results with TrafficAdBar.
The Free Service is a good place to start.
Upgrade to put your traffic on autopilot.
TrafficAdBar

Nove-Noga: Free Means Free!
| | |
| --- | --- |
| | One more thing, Throughout the Internet we are being bombarded by offers claiming to be free. Often this means free to look or free to download, pay to use. On this website I will work to identify just how free an offer may be. Look for '*Free Means FREE' to indicate a totally free resource. For an example, see the GIMP icon near the bottom of this page. |
Contact Information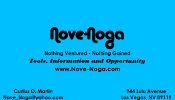 Contact Information Curtiss Martin Las Vegas, Nevada
Nove_Noga@yahoo.com
Find us on Google+
Check out our Facebook Page
*-*-*-*-*-*-*
Social Media for Business
IBO Toolbox is so much more than a place to do business promotion.
It provides a forum that almost guarantees a response to your publications.
Earn and use advertising credits to extend the reach of your promotional message.
Learn and Grow with the information shared by an amazing group of business persons.
Join and Use IBO Toolbox for *Free.
*Free Means FREE!
My First Banner Created with GIMP
Click Banner to Learn More.
*Free GIMP - GNU Image Manipulation Program
*Free GIMP for Mac OSX
*Free Means FREE